Behind the Curtain. Exhibition of prints of jurors and artists – members of the Board of SMTG
International Centre for Graphic Arts - Centrum Gallery
Rynek Główny 29, 2nd floor, 31-010 Krakow, Poland
see the map
18.09.2015 – 30.10.2015
vernissage: 17.09.2015, 16:00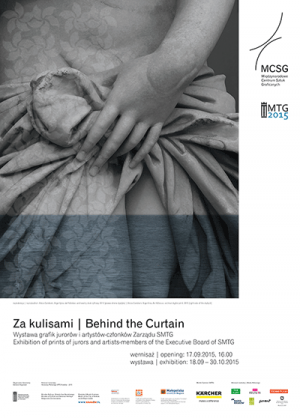 Behind the Curtain is an exhibition which provides an important addition to those organised within the frameworks of the Main Programme of the International Print Triennial – Krakow 2015. It gathers works by artists who worked at the jury panel that designed the Main Exhibition of MTG – Krakow 2015, as well as the exhibition of the Grand Prix of Young Polish Print – Krakow 2015, those who offered the Society their advice and support by working with the International Experts Council, as well as those who as members of the Executive Board of the Society actively promote Polish and international printmaking both in Krakow and all around the world.
The exhibition showcases a diversity of creative personalities and aesthetic approaches, whose richness contributes to the multiplicity of initiatives undertaken by the Society and to the visual diversity of exhibitions organised both as part of this edition of the Krakow Triennial, as well as within the frameworks of the International Centre for Graphic Arts in Krakow.
It is an exhibition that introduces those who with their knowledge, skills, and activity contribute to the development of the Triennial and whose efforts are usually hidden from public view. It is also an invitation to enter yet another dimension of the magic world of printmaking, which presents its many faces during the International Print Triennial – Krakow 2015.
artists
Modhir Ahmed (Szwecja), Andrzej Bednarczyk (Polska), Alicia Candiani (Argentyna), Vladimiro Elvieri (Włochy), Stephen Hoskins (Wielka Brytania), Tomasz Korczyński (Polska), Ingrid Ledent (Belgia), Bogdan Miga (Polska), Richard Noyce (Wielka Brytania), Carinna Parraman (Wielka Brytania), Leonard Pędziałek (Polska), Krystyna Piotrowska (Szwecja), Endi Poskovic (USA), Monika Wanyura-Kurosad (Polska), Lars Yeudakimchikov Malmquist (Szwecja).