International Centre for Graphic Arts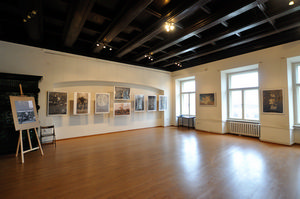 The International Centre for Graphic Arts serves for presentation and promotion of graphic arts and related activities. It is a space where you can find the history of graphic art and it's present time.
The Centre consists of
a Gallery called Centrum,
second Gallery called Experiment,
archives,
library/reading room
and media library.
Centrum Gallery is focused on presentation of the most important and interesting phenomena in contemporary graphic art in the world, presents prominent international artists as well as the exhibitions of international character. Experiment Gallery is open for the creative experience and young artists. Archive contains documents and catalogues of International Biennials and International Print Triennials in Krakow. Library and reading room have a unique collection of XX and XXI century books dedicated to graphic art and art magazines. Media library holds slides and digital reproductions of prints submitted during subsequent Biennials and Triennials.
International Centre for Graphic Arts was established in 2011 by the Board of SMTG VII term.
Artists who are interested in exhibiting in the Centrum Gallery or in Experiment Gallery are requested to contact us by mail or by phone.
International Centre for Graphic Arts
Rynek Glowny 29, 2nd floor, 31-010 Krakow, Poland
tel/fax: +48 12 422 19 03, +48 12 421 71 23
e-mail: smtg@triennial.cracow.pl
MCSG Gallery is open from Monday till Friday 10.00 – 16.00
or by phone appointment: +48 12 422 19 03, +48 510 050 844.