Graphic Arts from the World. Africa
International Centre for Graphic Arts - Centrum Gallery
Rynek Główny 29, 2nd floor, 31-010 Krakow, Poland
see the map
26.02.2013 – 21.03.2013
vernissage: 22.02.2013, 18:00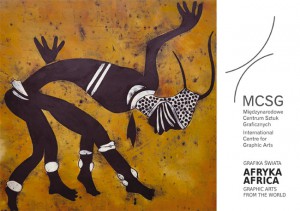 In the new cycle of exhibitions titled Graphic Arts from the World held at the International Centre for Graphic Arts, we attempt to outline the contour of the map of the graphic arts world. The exhibition presents interesting personalities and phenomena in graphic arts standing for various cultures, traditions and techniques. Artists represent the pearl of Maghreb – Morocco, Botswana, Egypt and the Republic of South Africa. Works by artists from Africa are characterised by deep existential reflection, mysticism and echo of the past rooted in the ritual, the primeval rite.
Expressive and distinct graphics, search for expression in black and white, exploration of classical techniques of intaglio and relief print: etching, aquatint, mezzotint, woodcut are the common features of the presented works. There are also graphic works made in printing techniques: lithographies, serigraphies and digital works. Figuration leads towards magic realism, so in these works one can feel closeness and, paradoxically, also distance to the reality. The skilfully used metaphor and mark create the space full of mysteries.
29 works shown at the exhibition come from the collection of the International Print Triennial Society in Krakow.
Monika Wanyura-Kurosad
Curator of exhibition
artists
BOTSWANA: Gamnqoa Kukama, Thamae Setshogo, X' Are Thama, X' Are Xgao' co
EGYPT: El Hady Ashraf Abbas, Magdy Abd El Aziz Al Beualy, Hussein El Chahat, Eman Ezzat El Shazly
MOROCCO: Hahmi Azza, Fathy Noureddine
REPUBLIC OF SOUTH AFRICA: Christian Diedericks, Brigitte Hertell, Stephen Inggs, Judy Woodborne