Antigravity. Krzysztof Tomalski
International Centre for Graphic Arts - Centrum Gallery
Rynek Główny 29, 2nd floor, 31-010 Krakow, Poland
see the map
15.01.2016 – 31.01.2016
vernissage: 14.01.2016, 18:00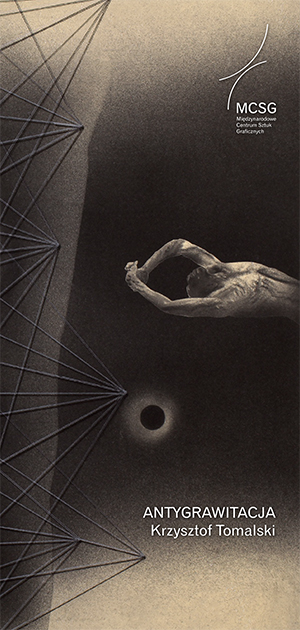 The exhibition is a summary of a research grant funded by the National Science Centre implemented in the last four years.
Antigravity is the title of several cycles or independently existing graphics created in the period 2013-2015, which are a continuation of earlier series of graphic, starting from 1999. They come from similar fascination and reflection. From the previous works they differ primarily on a basis of a graphics workshop and extension of metaphorical narration, for which this kind of technological capabilities have been deliberately and gradually appointed. They are an extension of fixed dilemmas and personal interests regarding the existence in the broadest sense of the word, adding to this most important metaphysical matter his own artistic vision. They are looking for the same answers in some, perhaps parapsychological way to questions about the phenomenon of life ...
Graphics made in author's own technique: alintaglio.
The exhibition is accompanied with with the presentation of the book "Alintaglio. Krzysztof Tomalski"
(Editor: Graphics Department of the Academy of Fine Arts in Kraków, 188 pp., Krakow 2015)