Lito Team. Panasiewicz, Świętek, Chwilczyński
International Centre for Graphic Arts - Experiment Gallery
Rynek Główny 29, 2nd floor, 31-010 Krakow, Poland
see the map
07.05.2015 – 24.05.2015
vernissage: 06.05.2015, 18:00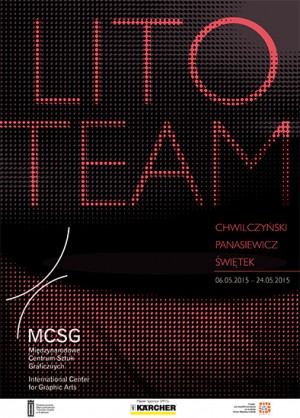 Erudition and creativity of our artists is given by short, vivid, or metagender(?) text written by Christopher Świętek:
"The graphics are like a woman ... allegedly. If this is true, then my lithographs are colorful as Vivienne Westwood, fractious as Patti Smith, vulgar as the guitarist of "Nashville Pussy" and scary as Charlize Theron in "Monster" the movie. But actually no! My artworks are trully mannish. Body covered by tattoos in, plus-minus, seventy percent, with hands, dirty from the working on a motorcycle and of course the lithographic inks, fond to drink and brawl sorrounded by sounds of Motorhead. My Lithography is a man with the devil hooves, cowboy boots, with bull terrier on a leash, and of course in the arms of beloved woman. ... Actually there is no need to write about it, you need to see it. "

We invite only the brave audience to the exhibition of three artists / Lito Team from the Academy of Fine Arts in Krakow.