Leszek Wyczółkowski. The Code of Nature
International Centre for Graphic Arts - Centrum Gallery
Rynek Główny 29, 2nd floor, 31-010 Krakow, Poland
see the map
10.05.2017 – 30.05.2017
vernissage: 09.05.2017, 18:00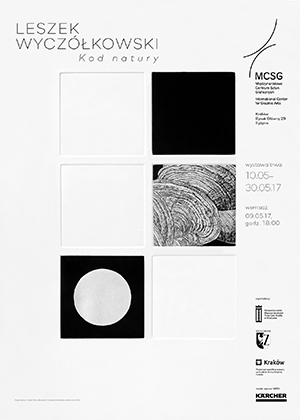 My art is the balance of two worlds. The initial world is one of intellect, geometry and order bound by strong craftsmanship. The other world is soft, organic, sensitive and instinctive. These two worlds combined are the foundation of my art, the result of which is the starting point of the viewer's imagination.
There is a strong cohesiveness with nature in my work, things organic and cosmic, with a glimpse of life under the microscope. My graphics are fundamentally based on logic and balance.
I want my work to serve the contemplation, which is so necessary to a person, in order to discover one's own self and one's own link with the world. I like to maintain a dialogue with the viewer. I never give an answer; I let the reaction depend on who sees it.
Leszek Wyczolkowski