Window to the World. International Print Biennial and Triennial in Krakow 1966–2016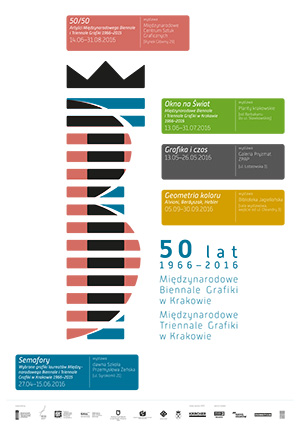 Exhibition Window to the World presents all 298 artists that have been awarded for the 50 years of existence of the event. It presents works of the Grand Prix winners since the first edition in 1966 when Hannes Postma from The Netherlands was awarded till the 2015 when the winner was Deborah Cornell from United States, whose work is the first multimedia project ever awarded.
The Jubilee exhibition is designed in order to underline dynamics and universal language of printmaking and graphic arts, thanks to which artists from the most distanced parts of the world are able to communicate with each other as well as with the viewers. It is of a special importance in the face of social and political changes that have affected this part of Europe. Repeatedly, those changes affected subsequent editions of the event as well as works of individual artists.
artists
Hannes Postma, The Netherlands, Grand Prix MBG – Kraków 1966
Jiří Anderle, Czechoslovakia, Grand Prix MBG – Kraków 1968
Roman Opałka, Poland, Grand Prix MBG – Kraków 1970
Per Kleiva, Norway, MBG – Kraków 1972
Hans Hamngren, Sweden, Grand Prix MBG – Kraków 1974
Gérard Titus-Carmel, France, Grand Prix MBG – Kraków 1976
Władysław Winiecki, Poland, Grand Prix MBG – Kraków 1978
Albín Brunovský, Czechoslovakia, Grand Prix MBG – Kraków 1980
Walter Valentini, Italy, Grand Prix MBG – Kraków 1984
Liliana Porter, Argentina, , Grand Prix MBG – Kraków 1986
Marek Jaromski, Poland, Grand Prix MBG – Kraków 1988
Günter Dollhopf, Germany, Grand Prix MTG – Kraków 1991
Toshihiro Hamano, Japan, Grand Prix MTG – Kraków 1994
Mersad Berber, Bosnia and Herzegovina, Grand Prix MTG – Kraków 1997
Tomasz Struk, Poland, Grand Prix MTG – Kraków 2000
Davida Kidd, Canada, Grand Prix MTG – Kraków 2003
Ingrid Ledent, Belgium, Grand Prix MTG – Kraków 2006
Joanna Piech, Poland, Grand Prix MTG – Kraków 2009
Joanna Janowska-Augustyn, Poland, Grand Prix MTG – Kraków 2012
Deborah Cornell, USA, Grand Prix MTG – Kraków 2015