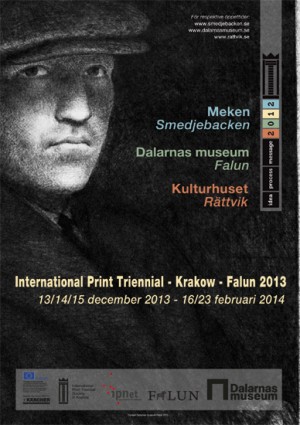 International Print Triennial - Krakow - Falun 2013 opening ceremonies:
Kulturhuset, Rättvik
http://www.rattvik.se
Friday, December 13th 4 p.m.
Speaker: Jordi Arkö, Dalarna Art AdvisorDalarnas
Dalarnas museum, Falun
http://​www.dalarnasmuseum.se
Saturday, December 14th 2 p.m.
Speaker: Inger Höjer Aspemyr, Curator/education The Public Art Agency Sweden
Meken, Smedjebacken
​www.smedjebacken.se
Sunday, December 15th 4 p.m.
Speaker: Leif Nilsson, Mayor Smedjebacken
The connection between us and those who did the paintings some 35 000 years ago in Altamira, Spain and the Lascaux caves, France makes for a breathtakingly beautiful thought. Humans invented the idea of drawing as a way to preserve knowledge. The material may have changed, but the method is as it always has been. The need to leave an imprint has always existed, and various surfaces have been used to do so: the Sumerians in southern Mesopotamia wrote with wedge-shaped characters on clay tablets; the Egyptians had hieroglyphs and pictograms; then there was the discovery of the papyrus plant, which though brittle resembled paper. Papyrus books were roll-formed. With time, papyrus was replaced with parchment: thin, scraped, bleached animal skin – strong enough that it could be formed into a book without breaking. The invention of paper in China was clearly something great. It facilitated communication. Knowledge could be shared and acquired more easily and more quickly. Artists welcomed paper and began to use it for printing images. The first method, relief printing, adorned documents and increased our reading comprehension. The image is more important than the word.
Our selection here stems from our wish to show all four printmaking methods: relief, intaglio, planographic, and serigraphy. Digital technology draws inspiration from all of these. Our further wish is to show how artists from different parts of the world use printmaking as a means of expression. The triennial brings together cultures and continents. The work of the artists provides insight into their lives. Printing is a means of communication. The methods are the same wherever, but the motifs differ. To hold or attend a triennial is a means to finding out what is current in the world of printmaking. We like to think of the print triennial as a project for peace.
Dialogue on enhanced cooperation with the International Print Triennial Society in Krakow (IPTS) was initiated in November 2010. The exhibition International Contemporary Printmaking from Krakow with 27 award-winning works by contemporary artists from the International Print Triennial in Krakow 2009 had just been inaugurated in the art gallery at Dalarna Museum. The long-standing cooperation between the Municipality of Falun and Dalarna Museum, which commenced in 1991 and resulted in three Falun biennials and four Falun triennials, interested our guests from Krakow, who were members of the IPTS board. Together we were able to offer three prominent "P" ideas: Print collections, Print workshops, and Print exhibitions. We were invited to become part of the international print network that Krakow, Oldenburg, and Vienna had established. Falun's role as a northern link was considered valuable.
The municipal printmaking workshop in Falun (Falu Konstgrafiska verkstad) focuses heavily on sharing knowledge about prints and printmaking to children within the province of Dalarna. Activities have gradually increased in number, extending to children beyond Sweden's borders. The most recent example was the 3Grafik, comprising images made by children in Zakho, Lublin, and Falun. The exhibition was held at Dalarna Museum and also offered creative activities for children and adults alike. Printmaking is always included in the museum's educational programmes for schools. This autumn, for example, all children in grade 5 from Falun created prints in a joint project between the museum and the county theatre.
Now it is finally time to present the International Print Triennial – Krakow – Falun 2013 with works by 140 artists placed in three locations in Dalarna. The other two towns, Rättvik and Smedjebacken, are also home to significant art scenes, both having their own printing press as a result of support from the provincial art advisor. Dalarna is a printmaking province to be reckoned with. Welcome to Fridell & Co.
Modhir Ahmed and Anne Seppänen
Jury for the International Print Triennial – Krakow – Falun 2013
links:
http://artandtown.com/web/?p=863
artists
Yogesh Aadkine, Indie (India)
Bjarne Agerbo, Dania (Denmark)
Modhir Ahmed, Szwecja (Sweden)
Nazir Ahmed, Bangladesz (Bangladesh)
Javier Aranguren, Hiszpania (Spain)
Daradics Arpad, Węgry (Hungary)
Peter Augustovic, Słowacja (Slovakia)
Nam Kyung Bae, Korea (Korea)
Nivrutti Bawane, Indie (India)
Milan Blanusa, Serbia (Serbia)
Bert Brouwer, Holandia (The Netherlands)
Lisa Bulawsky, Stany Zjednoczone Ameryki (USA)
Igor Cabraja, Chorwacja (Croatia)
Alicia Candiani, Argentyna (Argentina)
Björn Carlen, Szwecja (Sweden)
Thomas Carlund, Szwecja (Sweden)
Deborah Chapman, Argentyna (Argentina)
Ilse Chlan, Austria (Austria)
Suzanne Chouteau, Stany Zjednoczone Ameryki (USA)
Agnieszka Cieślińska, Polska (Poland)
Wayne Crothers, Australia (Australia)
Ewelina Czajka, Polska (Poland)
Sławomir Ćwiek, Polska (Poland)
Ginette Daigneault, Kanada (Canada)
Christian Diedericks, Republika Południowej Afryki (South Africa)
Peter Ford, Wielka Brytania (United Kingdom)
Ragnhild Fredell, Szwecja (Sweden)
Takahashi Fumiko, Japonia (Japan)
Olena Golub, Ukraina (Ukraine)
Victor Gomez, Kuba (Cuba)
Dieter Grund, Kanada (Canada)
Gulcin Gunaydin, Turcja (Turkey)
Sumie Hamamoto, Japonia (Japan)
Gudrun Heamagi, Estonia (Estonia)
Inga Heamagi, Estonia (Estonia)
Anne Heyvaert, Hiszpania (Spain)
Anneli Hilli, Finlandia (Finland)
Zhang Hui-jing, Chiny (China)
Armas Hursti, Finlandia (Finland)
Yoshio Imamura, Japonia (Japan)
Liz Ingram, Kanada (Canada)
Zbynek Janacek, Czechy (Czech Republic)
Aleksandra Janik, Polska (Poland)
Anne Kristine Jarulf, Norwegia (Norway)
Janusz Jędrzejczyk, Polska (Poland)
Iwona Juskowiak-Abrams, Wielka Brytania (United Kingdom)
Stefan Kaczmarek, Polska (Poland)
Jozsef Kadosa Kiss, Węgry (Hungary)
Takao Kakuma, Japonia (Japan)
Masafumi Kano, Japonia (Japan)
Masahiro Kasai, Japonia (Japan)
Serhiy & Oleksandr Kharuk, Ukraina (Ukraine)
Mehrdad Khataei, Iran (Iran)
Davida Kidd, Kanada (Canada)
Chang Soo Kim, Korea (Korea)
Sohee Kim, Korea (Korea)
Hasan Kiran, Turcja (Turkey)
Vladimir Kizilov, Rosja (Russia)
Caroline Koenders, Holandia (The Netherlands)
Katrin Koenig, Niemcy (Germany)
Margret Kohler-Heilingsetzer, Austria (Austria)
Vasil Kolev, Bułgaria (Bulgaria)
Miyuki Kondo, Japonia (Japan)
Lubomir Krastev, Bułgaria (Bulgaria)
Velizar Krstić, Serbia (Serbia)
Wojciech Krzywoblocki, Austria (Austria)
Karen Kunc, Stany Zjednoczone Ameryki (USA)
Janne Laine, Finlandia (Finland)
Aoife Layton, Irlandia (Ireland)
Georg Lebzelter, Austria (Austria)
Ingrid Ledent, Belgia (Belgium)
Paulis Liepa, Łotwa (Latvia)
Su Jin Lim, Kanada (Canada)
Katariina Mannio, Finlandia (Finland)
Nils-Erik Mattsson, Szwecja (Sweden)
Hugh Merrill, Stany Zjednoczone Ameryki (USA)
Zoran Mishe, Macedonia (Republic of Macedonia)
Elena Molena, Włochy (Italy)
Grzegorz Myćka, Polska (Poland)
Jasmina Nedanovski, Słowenia (Slovenia)
KG Nilson, Szwecja (Sweden)
Marjatta Nuoreva-Westerberg, Finlandia (Finland)
Noriko Ohno, Japonia (Japan)
Sylwia Olejniczak, Polska (Poland)
Ryszard Otręba, Polska (Poland)
Mario Palli, Włochy (Italy)
Brigitte Pamperl, Austria (Austria)
Jan Pamuła, Polska (Poland)
Pascale Parrein, Francja (France)
Jaana Paulus, Finlandia (Finland)
Mirosław Pawłowski, Polska (Poland)
Darina Peeva, Bułgaria (Bulgaria)
Jose Perez Garcinuno, Hiszpania (Spain)
Javier Perez Gil., Hiszpania (Spain)
Joanna Piech, Polska (Poland)
Eija Piironen, Finlandia (Finland)
Monika Piórkowska, Polska (Poland)
Christine Pirker, Austria (Austria)
Karol Pomykała, Polska (Poland)
Endi Poskovic, Stany Zjednoczone Ameryki (USA)
Janet Preston, Irlandia Północna (Northern Ireland)
Ilona Proczek-Kranc, Polska (Poland)
Agnieszka Pstraś-Gaudyn, Polska (Poland)
Yvonne Rees-Pagh, Australia (Australia)
Andrew Rice, Stany Zjednoczone Ameryki (USA)
Xenophon Sachinis, Grecja (Greece)
Junji Sakai, Japonia (Japan)
Awni Sami, Irak (Iraq)
Augusto Sampaio, Brazylia (Brasil)
Boonmee Sangkhum, Tajlandia (Thailand)
Aine Scannell, Szkocja (Scotland)
Daniela Schlueter, Kanada (Canada)
Andrea Serafini, Włochy (Italy)
Wang Shi-Min, Chiny (China)
Guntars Sietins, Łotwa (Latvia)
Robert Simrak, Chorwacja (Croatia)
Elisabet Alsos Strand, Norwegia (Norway)
Michiko Suzuki, Japonia (Japan)
Lihie Talmor, Izrael (Israel)
Ayrat Teregulov, Rosja (Russia)
Nicos Terzis, Szwecja (Sweden)
Bruce Thayer, Stany Zjednoczone Ameryki (USA)
Glenn Thomas, Holandia (The Netherlands)
Evi Tihemets Viires, Estonia (Estonia)
Vicky Tsalamata, Grecja (Greece)
Roberta Vaigeltaite, Litwa (Lithuania)
Vania Valkova, Bułgaria (Bulgaria)
Sonal Varshneya, Indie (India)
Kestutis Vasiliunas, Litwa (Lithuania)
Gabriele Vello, Niemcy (Germany)
Lenka Vilhelmova, Czechy (Czech Republic)
Art Werger, Stany Zjednoczone Ameryki (USA)
Andrzej Węcławski, Polska (Poland)
Lars Wikstrőm, Szwecja (Sweden)
Joergen Willerup, Dania (Denmark)
Aleksander Woźniak, Polska (Poland)
Hiroya Yasukochi, Japonia (Japan)
Eli Yeheskeli, Izrael (Israel)
Chee Hoe Yow, Malezja (Malaysia)