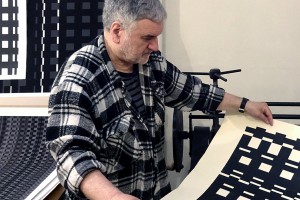 The Executive Board of the International Print Triennial Society in Krakow is proud to announce that the Grand Prix d'Honneur – awarded for lifetime achievement and special contributions to the international and Polish graphic arts community – in 2021 goes to prof. Jan Pamuła.
In the justification of the Award, the Executive Board emphasizes that it is "an expression of recognition of the pioneering, both on the Polish and international scale, of the Laureate's work in the field of digital graphic arts, as well as recognition of his organizational activities for the Polish and international graphic arts community.
Since the end of the 1970s, Professor Jan Pamuła has been conducting artistic experiments in the field of computer and digital graphic arts, initiated by cooperation with the Digital Laboratory at the Georges Pompidou Center in Paris, which at subsequent stages gained both a different aesthetic form and used various technical and formal tools, from classic prints on paper, through prints on canvas and light boxes, to animated forms. The Professor also served twice as the Rector of the Academy of Fine Arts in Krakow (in the years 2002-2008), as well as the President of the Executive Board of the Society in the extremely difficult period of its activity in the years 2010-2013. Professor Jan Pamuła is also the curator of many excellent exhibitions, among which the presentation of art by artists from the Far East (Korea, Japan and China) deserves special attention.
We would like to congratulate the Laureate and invite you all on June 11 to the opening of the Laureate's exhibition at the Europe–Far East Gallery of the Manggha Museum of Japanese Art and Technology in Krakow.