Franciszek Bunsch - drawing and print | Exhibition within Accompanying Programme of the MTG - Kraków 2015
Centrum Gallery, Nowohuckie Centrum Kultury
232 Aleja Jana Pawła II, 31-913 Kraków
see the map
04.09.2015 – 28.09.2015
vernissage: 19.09.2015, 18:00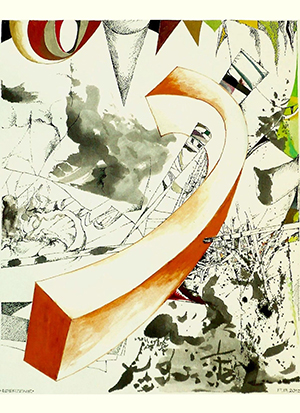 The exhibition is a show of works of Francszek Bunsch. Although the collected works are from different periods and years, the idea of the author is not to create a typical retrospective, but show some problems appearing in different time periods and in different means of expression. There are here also sketches and drawings, which are also often only preparation for the graphics, which is clearly visible when you are confronted with the subsequent realization, but viewed over time they also seem to be worth to show.
It's a kind of communication of thoughts and troubles present at a time - revealing of what troubles a single man or larger community. It will be in a form from even a joke and satire, to the issues most important - existential.
Noticeable diversity of expression is a result of reaching for sometimes very different means and techniques for obtaining the most satisfactory and complete form - to show what the author wants to express.
The works were grouped into the following main sets:
- Drawings and tempera
- Woodcuts and linocuts
- Engravings and etchings