Power of graphics. Polish printmaking in XX and XXI century.
International Centre for Graphic Arts - Centrum Gallery
Rynek Główny 29, 2nd floor, 31-010 Krakow, Poland
see the map
07.05.2015 – 26.06.2015
vernissage: 06.05.2015, 18:00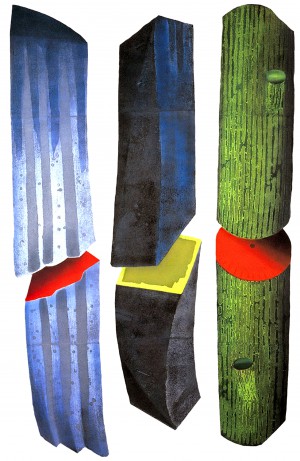 The exhibition presents outstanding works of Polish graphic artists who entered the canon of contemporary Polish art. It reflects the state of Krakow and Polish printmaking, shows the outstanding personality and stunning graphics. Graphic World is an area of constant artistic experiments, meeting place for the artistry and mastery workshop. It is also a world of beauty and deep spiritual reflection. The works presented on the exhibition are a kind of milestones, that marks development of the graphic arts in Poland. The artists whose works are presented at the exhibition, have made invaluable contributions to the development of graphics. They are its vanguard. They are the artists from different generations- masters and young ones. Their imagination and the ability to create their own worlds, leads to attractive and extraordinary journeys. 38 artists presents more than 60 works from 1980-2012.
Honorary Patronage:
Mayor of the City of Krakow Jacek Majchrowski.

The Project was completed with the financial support of the Malopolska Region.
artists
Grzegorz BANASZKIEWICZ, Andrzej BARTCZAK, Jan BERDYSZAK, Zbigniew BIEL, Franciszek BUNSCH, Paweł CIECHELSKI, Dominik CIERPIAŁ, Piotr CIESIELSKI, Jacek CUPRYŚ, Janusz Jerzy CYWICKI, Jerzy DMITRUK, Teodor DURSKI, Stanisław FIJAŁKOWSKI, Ryszard GIERYSZEWSKI, Jerzy GRABOWSKI, Andrzej GRACZYKOWSKI, Leszek HOŁDANOWICZ, Aleksander JANICKI, Stefan KACZMAREK, Marek KAMIEŃSKI, Patryk LUTOMSKI, Zbigniew LUTOMSKI, Ryszard OTRĘBA, Henryk OŻÓG, Jan PAMUŁA, Jerzy PANEK, Stefan PAPP, Rafał PYTEL, Krzysztof SKÓRCZEWSKI, Jacek SROKA, Marcin SURZYCKI, Piotr SZUREK, Krzysztof TOMALSKI, Stanisław WEJMAN, Tadeusz Gustaw WIKTOR