MTG 2018 Laureates | The Special Award of the Leon Wyczółkowski Award founded by the Leon Wyczółkowski District Museum in Bydgoszcz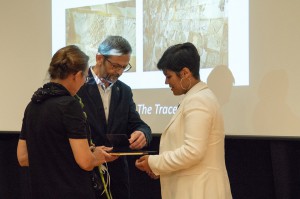 The Special Award of the Leon Wyczółkowski Award founded by the Leon Wyczółkowski District Museum in Bydgoszcz
Priscilla Romero | Costa Rica
The Trace of Midas
latexgraphy, chine-collé with gold leaf on gampi paper, installation | 2018 | 100 x 100 cm
Graphic installation entitled The Trace of Midas brings this mythological metaphor to encourage the reflection on the paradox of power in society. The human beings are capable of achieving things, extolling human ability to the level of divine creation, using his/her power to transform the world that surround us for the best and the worst. This power distorts the perception of reality, and in most cases in history it exceeds our ability to understand the consequences of our actions.
In order to address this idea, I choose a media that illustrate the connection between the concept and the form trough the process. Latexgraphy allows me to stamp the actual fingerprints with great precision, so the viewer can be able to recognize the textures and details of the skin. This formal achievement also has a conceptual meaning, that can be interpreted as an analogy of the impossibility of reaching, touching, and having the absolute power, and overall, the cost of this commitment, that is the fragmentation, dissolution and distortion of the form of the hand, and the symbolic meaning that goes within.
For the last seven years I have been working on developing a new printmaking technique that consists on obtaining matrix-impressions from the surface of the skin using nontoxic materials such as natural hypoallergenic latex, viscoelastic liquid silicone, and alginate (hydrogel), among others. These matrices are elastic membranes that emulate the texture and appearance of the skin. This relief medium allows printing both negative and positive hyper realistic images of the body on a flat or three-dimensional support by specific inking and printing techniques.