MTG 2018 Laureates | The Special Award of the Rector of the Academy of Fine Arts in Gdańsk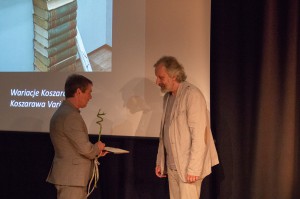 The Special Award of the Rector of the Academy of Fine Arts in Gdańsk
Krzysztof Kula | Poland
Koszarawa Variations 1/18
graphic installation, performance, print, cardboard, wood, 18 volumes of Encyclopedia in German, mirror, water, paper mask, video in a form of a time-lapse movie, projection | 2017 | variable dimensions
The video material used in the graphic installation entitled Koszarawa Variations 1/18 was saved in the form of a time-lapse movie. The registration was made in Koszarawa Bystra in the Beskid Żywiecki in cooperation with Grzegorz Banaszkiewicz. The installation consists of a looped projection projected onto the surface of the screen built on the basis of a dozen or so tubes covered with prints. The vertical tubes stand on base of a wooden table top. This construction rests on a column composed of pre-war German encyclopedias. The archival record of performance displayed on an atypical screen is the author's dialogue with nature, thus giving the viewer the opportunity to observe the process of graphic imaging.
Hommage à Tomasz Struk
graphic installation, performance, print, wood, metal, mirror |
2017 | variable dimensions
The graphic installation consists of mirrors placed vertically on the wall and archival intaglio prints, permanently stuck on wooden planks having the shape of a hexagon (also known from the so-called coffin portraits). The viewer observes the graphic installation reflected on the surface of individual mirrors. Bathroom mirrors from the 1980s assume the function of a matrix 'reflecting' the memory of the work of Tomasz Struk (a well-known Polish printmaker, Laureate of the Grand Prix of MTG 2000). A work dedicated to the artist's memory and a reflection on his art.